Events
RUGBY Networking Day at AJ Bell Stadium, Salford, 13th July 2017, 10am - 3.30pm.
SPONSORED by GEOQUIP Worldwide
'Since 1982, GeoQuip Worldwide have been a global leader in security systems, including fencing, gates, alarms and through Broughton Controls access control, including turnstiles, barriers and gates.'

Errea - leader in sportswear manufacturing.

AMS - Supply leading video conferencing planning solutions, specialising in video conference.
Other confirmed exhibitors:
Medoc - Specialise in retail and ticketing software for the sports industry.
Zebra Finance - Specialist in season ticket instalment plans.
The Construction Company - Professional & Personal Construction Services to both the domestic & commercial clients.
Greenfield - Provide and install synthetic turf, 3g, Hybrid and grass pitches.
Polytan - install synthetic sports surfaces throughout the world for 40 years and in 2016 celebrated 25 years in the UK.
Sports ID - Leading supplier of rotating advertising throughout the UK and Southern Ireland.
Ticketmaster - Ticketing systems for football clubs.
Tickets.com - Ticket selling and distribution services.
Pop Up Banners - Custom portable promotional display flag banners.
Teamrooms - specialist in providing accommodation solutions for professional sports teams.
One advanced - Sports industry ticketing and e-commerce solution specialists.
WDSi Asia - Produce globally compatible wireless technology and networks.
Teamrooms - Teamrooms are a specialist in providing accommodation solutions for professional sports teams.
SMMEX - Held within the iconic Wembley Stadium, SMMEX provides your business with a platform to network with sports clubs.
Willow Catering - Mobile catering company operating at varied corporate and private events across the UK.
SlowBroadband? - The team behind SlowBroadband? has been designing, building and supporting networks for enterprise clients for many years.
Exterity - Integrated IP Video and Digital Signage Solutions
Sports 360 - Reowned sports advertising agency in the UK
RH Consulting- Sound systems for stadiums
Tripleplay Single platform media delivery solutions
Cafés Novell - Selecting, importing, roasting and selling coffee
Ties International - Specialist in ties with the logo, scarves, bow ties and pashminas.
William Turner - The family-led William Turner brand offers a competitively priced range of team accessories, including ties, bags and bottles.
Hy-Pro (Shock Doctor) -
WDSi - WDSi group is the leading edge of stadium WiFi design, deployment, and management of large scale stadium and arena WiFi
Chelsea Merchandise Show - Now expanding into two halls at Stamford Bridge, the continued growth of the Show now firmly places itself as the biggest event in the sports merchandise industry calandar.
The Construction Project - An award winning global contractor creating sustainable air supported domes, and steel framed structures.
Retail & Sports Systems - Fully Integrated Retail System that has the functionality required for sports organisations of all sizes.
HD Signs - Branding solutions for all sectors, including retail, leisure, major events, sporting events, exhibitions, property and architecture.
Halbro Sportswear - A family run business established in 1919. Halbro offer jerseys and shorts as well as a large range of training and weather protection gear.
Programme Master - One of Europe's leading sports publishers. Clients include Premier League clubs & prominent global sporting bodies. we produce high-quality magazines, matchday & event programmes, web content & digital publications
Verteda - Technology for hospitality & retail including point-of-sale & cash reconciliation.
To register your FREE* delegate place or to enquire about exhibiting please email

joe@­sportsglobal.­co.­uk
or call 01772 875184
GUEST SPEAKER CONFIRMED
RTD are proud to announce Robbie Hunter- Paul will be attending as the day's guest speaker. Hunter-Paul holds extensive knowledge in the rugby industry both as an elite athlete and administrator ,and during his playing career achieved 4 Super League Titles, 2 Challenge Cup winners medals, 2 World club winners medals,1 Championship title, 2 Northern Rail cup titles and Rugby Unions Middlesex 7's trophy, alongside becoming the first player ever to achieve what was a Challenge Cup final record of being the youngest captain to lead his team onto the field and also become the first person to score three tries at Wembley Stadium.
Future networking event:
Football Networking Day at Molineux Stadium, Wolverhampton Thursday 7th September 2017, 11am - 3pm.
To enquire about exhibiting or registering your FREE* delegate place, email office@­fo­ot­ball­tra­dedi­rec­to­ry.­com or call 01772 875184
A list of exhibitors will be added when they are confirmed.
Recent exhibitors have included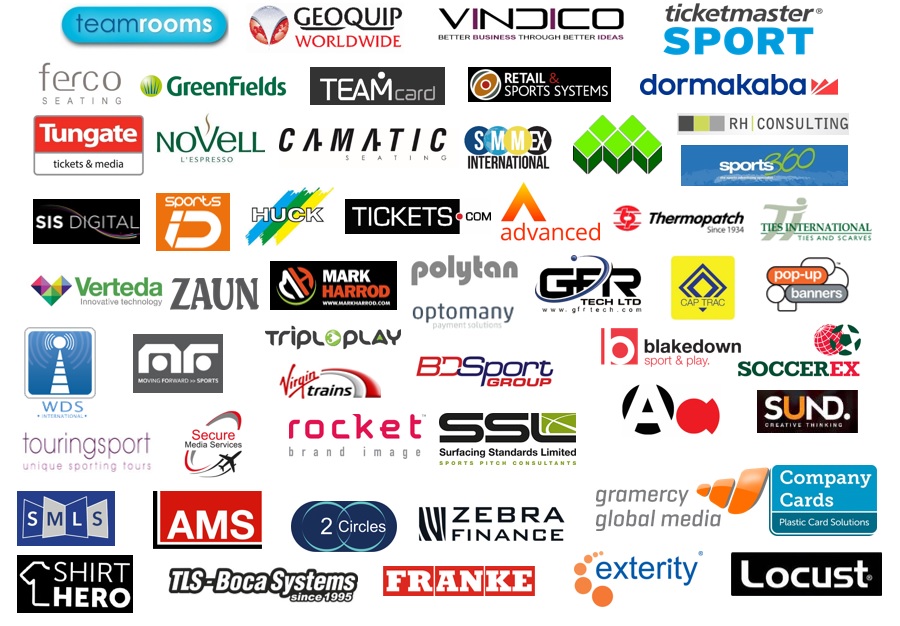 Our networking events have a regular diary entry for most football clubs and administrators and suppliers alike.
What previous delegate and exhibitors have said about previous events:
'Convenient set up and very professional exhibitors' – Watford FC
'I found it great to see the other side of football and connect with others willing to help.' – Dean Holness
'I found the day useful and both John and Trish very hospitable and were happy to facilitate conversations with potential business partners…' Chris, Mitre
'We have worked with FTD for a number of years and found their service to be very effective in helping promote the Medoc brand into football. A professional organisation that is also friendly, helpful and efficient' Lyn Done, MD Medoc.
'We made useful contacts which will be useful prospects for our business'
'The event was very useful, make good contacts and great for brand exposure'