Quickscore announced as Farnborough's new shirt sponsor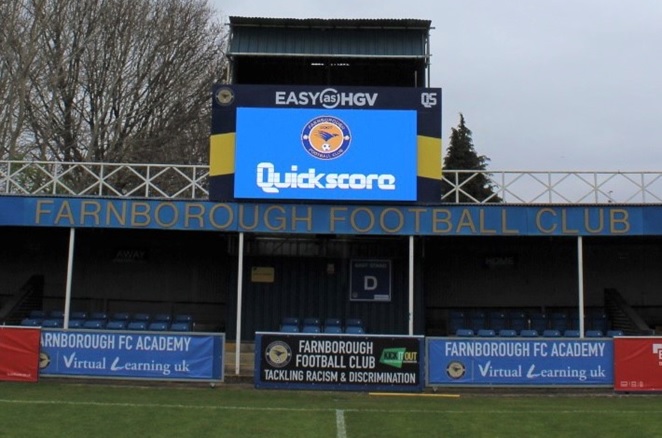 Quickscore have announced that they will be Farnborough FC's main shirt sponsor for the 2021/22 season!
Quickscore's Co-Founder and COO, David Geensen: "we are really excited to be working with Farnborough and seeing our logo on their beautiful kit and the new Quickscore scoreboard at the Rushmoore Stadium. Farnborough FC is a really great club with a bright future ahead and we are really excited about working with them. We have a great product with incredible software and we hope more clubs will follow suit"
Quickscore offers an array of scoreboards for multi-functional football scoreboards for clubs of all sizes controlled by advanced software and various revenue streams (events, concerts, cinema, custom advertising platform and more). Current customers include Farnborough FC, Slough Town FC, Hereford FC and Dorking Wanderers FC.
Quickscore's Co-Founder and CTO, Abdul Mohamed: "we work hand-in-hand with our customers, offering the most advanced software and a scoreboard which is tailored to each club's needs. Our development team is constantly creating new features in our software, for example we just launched an individual player sponsorship feature to the QS Football Pro App."
The QS Football Pro App allows clubs to easily manage player profiles, team information, advertising, skins, colours and scoreboard layouts and a lot more directly from the app. Associate sponsor to players, and send us your own animations (which can be associated to sponsors). Scoreboard match details can be completely customised via the app, and users can choose which screen they want to display at the click of a button.
Football Scoreboards & Products:
QS100: P10 or P8 SMD LED Screen, Dimensions: 2560 mm W x 1280 mm H
QS200+: P10 or P8 SMD LED Screen, Dimensions: 3840 mm W x 1920 mm H
Custom Sized Screens
Perimeter Advertising Screens
Information Screens
QS Mirroring Dongles
If your club is looking at getting a new scoreboard then please get in touch with Quickscore: info@quickscore.co.uk or 020 3892 8538.