Bring colour to the stands even behind closed doors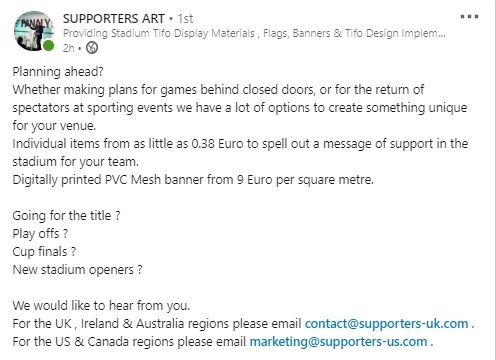 Supporters UK have been providing football fans and clubs all over the UK with flags, banners and Tifo display materials since 2002.
Stephen McCormick, UK Operations Director and recently appointed Head of Sales & Marketing for the US, Canada and Australia regions for Supporters Event Manufactory, is one of a number of people working for Supporters who have "a wealth of experience working around the world at big events including the [FIFA] World Cup finals, European Championships, Champions League, Europa League and in the leagues across Europe."
Supporters help create a "spectacle for the fans" as well as "a fantastic atmosphere at big matches, giving fans and players a real lift"
In recent years Supporters UK have brought colour to the Carabao Cup semi final clash at Ashton Gate between Bristol City and Manchester City as well as various EFL play off, Champions League and FA Cup matches.
The COVID-19 pandemic has had a huge impact on everyone including Supporters who had stepped up production to ensure they had plenty of stock to cover the months ahead for all domestic club competitions in Europe and the US, as well as the UEFA European championships in the summer. It goes without saying that there is going to be a huge buzz when the fans are finally allowed back in the stadiums so if you are wanting to plan ahead Supporters can help you all the way from planning to implimentation.
In the mean time whilst fans are no allowed in stadiums Supporters have been talking with a lot of clubs to discuss how we can help them add some colour in the stands to avoid seeing empty stands. Supporters have plenty of banner options available which are a fantastic opportunity for sponsors to get their brand on show or thank the NHS and all other key workers for everything they have done for us during the pandemic.